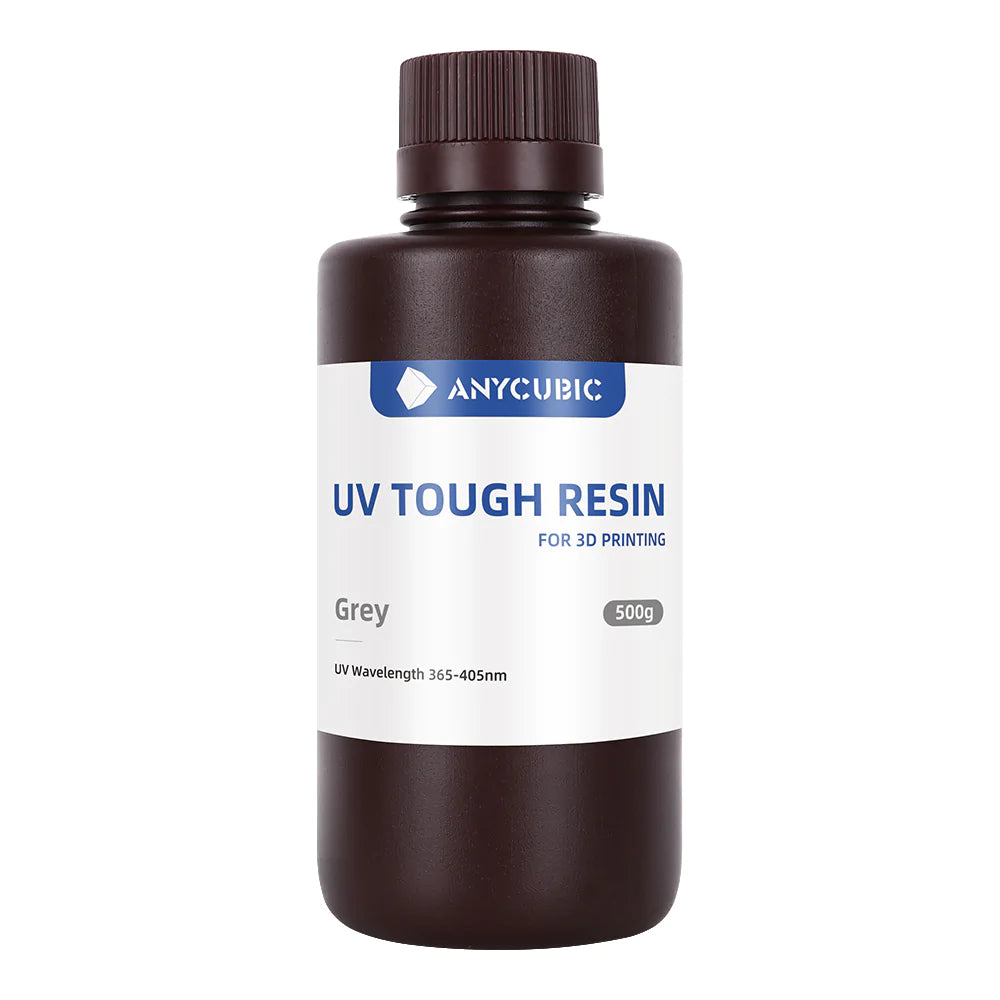 Anycubic Flexible Tough Resin 405nm
---
Highlight
Balanced Performance:
Anycubic UV Tough Resin is in balance with softness and toughness. It is highly resistant to compression, stretching and bending without breaking.
Test Approval:
After various tests from Anycubic lab, such as repeated bending, hole drilling test, and drop test, the excellent performance proves its good toughness and flexibility.
Wide Compatibility and Application:
Sensitive to 365nm – 405nm wavelengths; Applicable to industrial spare parts that need to be bent repeatedly as well as shock absorption parts.
User Guide:
To ensure its stable performance, please shake the resin well before use and keep sealed and away from light after use; To ensure your safety, please wear gloves before use to avoid direct contact with the skin and keep the room ventilated.
Product Description
High Toughness, Not Easy To Break



Balancing softness with strength, Anycubic UV Tough Resin can withstand bending, flexing, and compression. The test module, uncured resin, has a size of 10mm*4mm*80mm, showing it is not easy to break while bending.
Good Tensile Strength and Elongation



The drilling test shows Anycubic UV Tough Resin has the capability of crack resistance, good strength and elongation and can resit chipping, cracking and stress mark due for cyclic vibration movement. The resin is tested on a module with a size of 10mm*4mm*80mm, the curing time is within 5 minutes, and the elongation at break can reach 40%.
Shock Proof, Safe from Falling



Parts printed with Anycubic UV Tough Resin are crash-proof and display high impact strength. Besides, it can quickly recover shapes from bending, withstanding high impact and other high strength mechanical pressure.
High Precision, Low Shrinkage



Anycubic UV Tough Resin provides high accuracy, smooth surface, clear print details and low shrinkage rate advantages for model printing.
Widely Compatible with Most LCD printers



Suitable for most LCD 3D printers and optimized for 3D printing wavelengths between 365nm – 405nm, better effects with ANYCUBIC LCD 3D printers.


Various Colors and Wide Application



Many color options available to meet your needs, and it is applicable to all kinds of models, casings and even engineering parts with high toughness requirements, such as industrial parts, casings, jigs and fixtures, connectors and others.






---
Share this Product
---
More from this Category