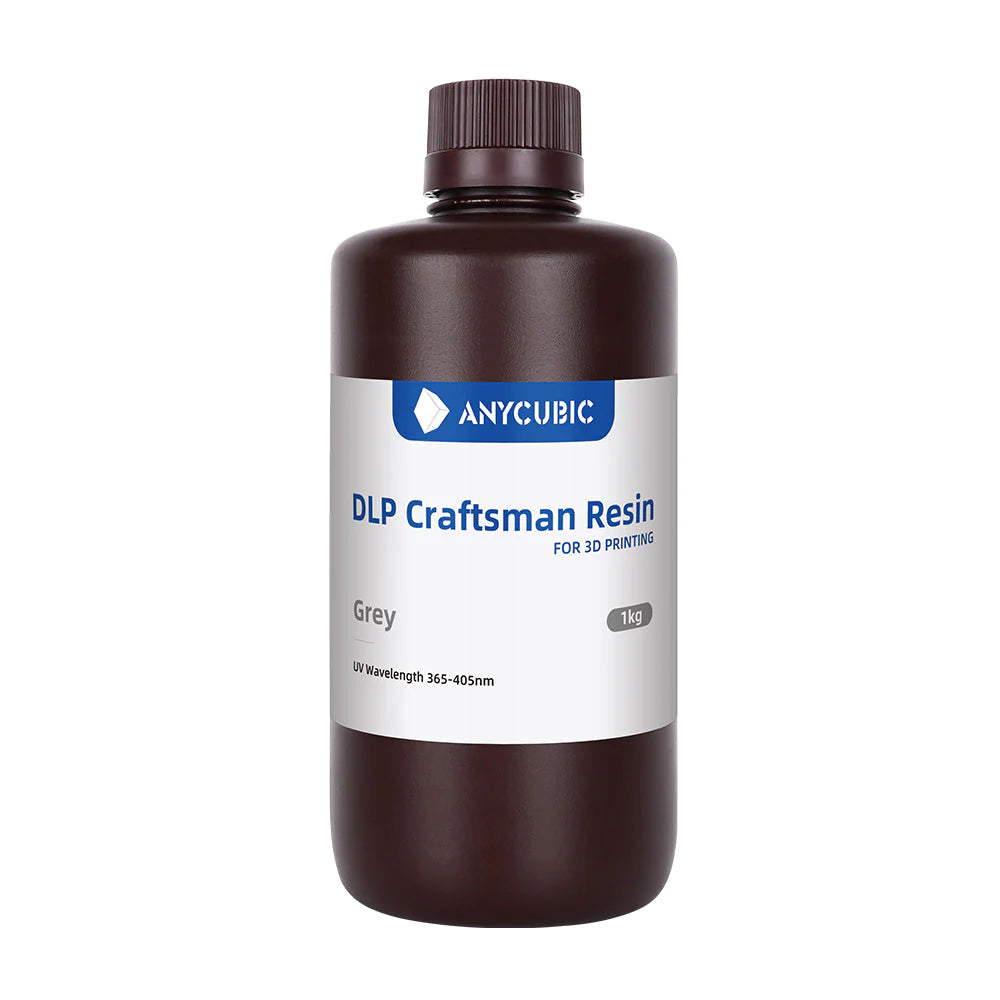 Anycubic DLP Craftsman Resin - 1Kg
---
Highlight
DLP Printers Exclusive:

 

In order to take into account the compatibility with the needs for high accuracy resin and DLP technologies, Anycubic developed this DLP Craftsman Resin to meet the needs of creators who have high precision requirements for 3d prints.
Precision Matters:

 

Anycubic DLP Craftsman Resin gives you an excellent printing experience and incredible life-like details, suitable for animation models with high demand for performance details, jewelry prototypes, precise parts, etc.
Long Shelf Life:

 

The expiration date is up to one and a half years and that is longer than many resins from other brands. To ensure its stable performance, please shake the resin well before use and keep sealed and away from light after use.
Fast Printing, Low Shrinkage:

 

Anycubic DLP Craftsman Resin reduces shrinkage while shortening exposure time, which can save your 3D printing waiting time and significantly improve your work efficiency.


Product Description
Specially Developed for DLP 3D Printer

In September 2021, Anycubic Photon Ultra became the first consumer 3D printer with DLP technology in the industry. In 2022, Anycubic made an important leap in DLP technology,

 

Anycubic Photon D2

 

came out. And this DLP Craftsman Resin is developed to take full advantage of its high-precision printing.
DLP Printing Deserves Better Resin

The precision benefits of DLP technology deserve better resins. When discussing 3D printing, most people focus on the resolution of 3D printers. But experienced makers know that the materials used are as important as the printer in order to make the final results look good.
Ceramic Powder for More Details

To help makers obtain more detailed 3D printed items, Anycubic DLP Craftsman Resin is launched to meet their needs. Nano - scale microcrystalline ceramic powders are added, which enhance the scattering of light within the resin, making the resin more sensitive to light and improving the fineness of the surface.
Extremely High Precision

Anycubic DLP printer built the same 3d model twice respectively with DLP Craftsman resin and general resin for comparison. When zooming in ten times to the surface of the model, we can see that the DLP Craftsman resin appears to have a smooth and exquisite surface, while the general resin gets a blurred surface with obvious layer lines.
Fast Speed, Low Shrinkage

Due to the upgraded formula, Anycubic DLP Craftsman Resin can improve the printing speed and lower the shrinkage rate of 3d models. The first exposure time can be as fast as 35 seconds, and the normal exposure time can be as fast as 2 seconds per layer. Molding shrinkage is as low as 3.7%.
Extra Long Shelf Life

Other resin products on the market have a shelf life of only 1 year. Thanks to the upgrade of formula, the shelf life of Anycubic DLP Craftsman resin is up to one and a half years. To ensure your safety, please wear gloves before use to avoid direct contact with the skin and keep the room ventilated.
---
Share this Product
---
More from this Category