---
Experience the ultimate printing precision and quality with the ELEGOO Saturn 3 Ultra. 

It features a 10-inch 12K mono LCD with a resolution of 11520x5120 and an XY resolution of 19x24 microns, 
which allows you to print models with exceptional details and sharp edges.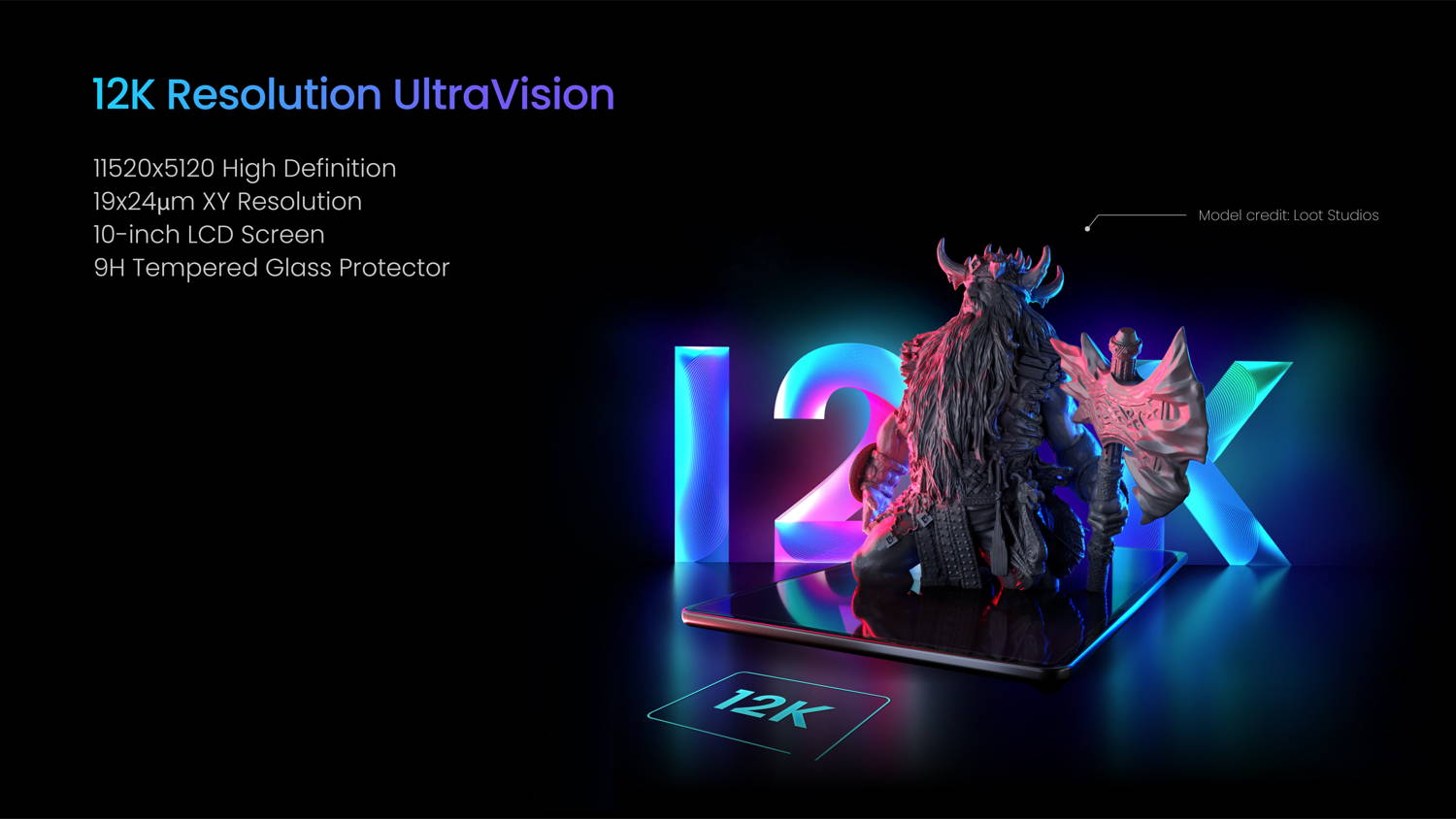 COB+Refractive Light Source
The printer uses a COB + refractive light source, 

which reduces light dispersion and provides uniform and consistent light distribution, 
resulting in high-quality prints with a smooth surface and dimensional accuracy.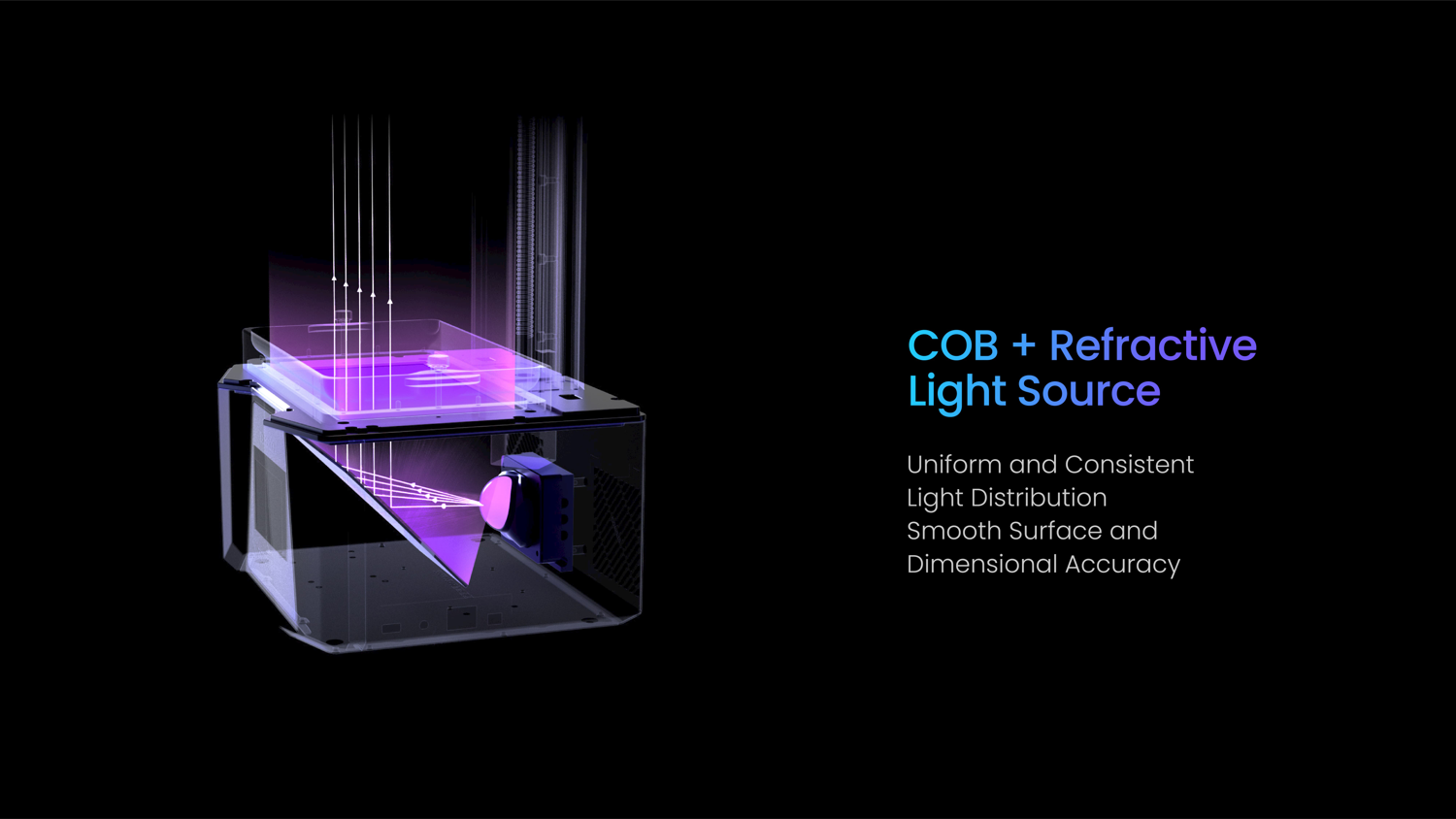 Powered by a brand new Linux OS with 4G RAM, 

which guarantees stable file transfer and faster computing, 
the Saturn 3 Ultra offers a smooth and efficient printing experience.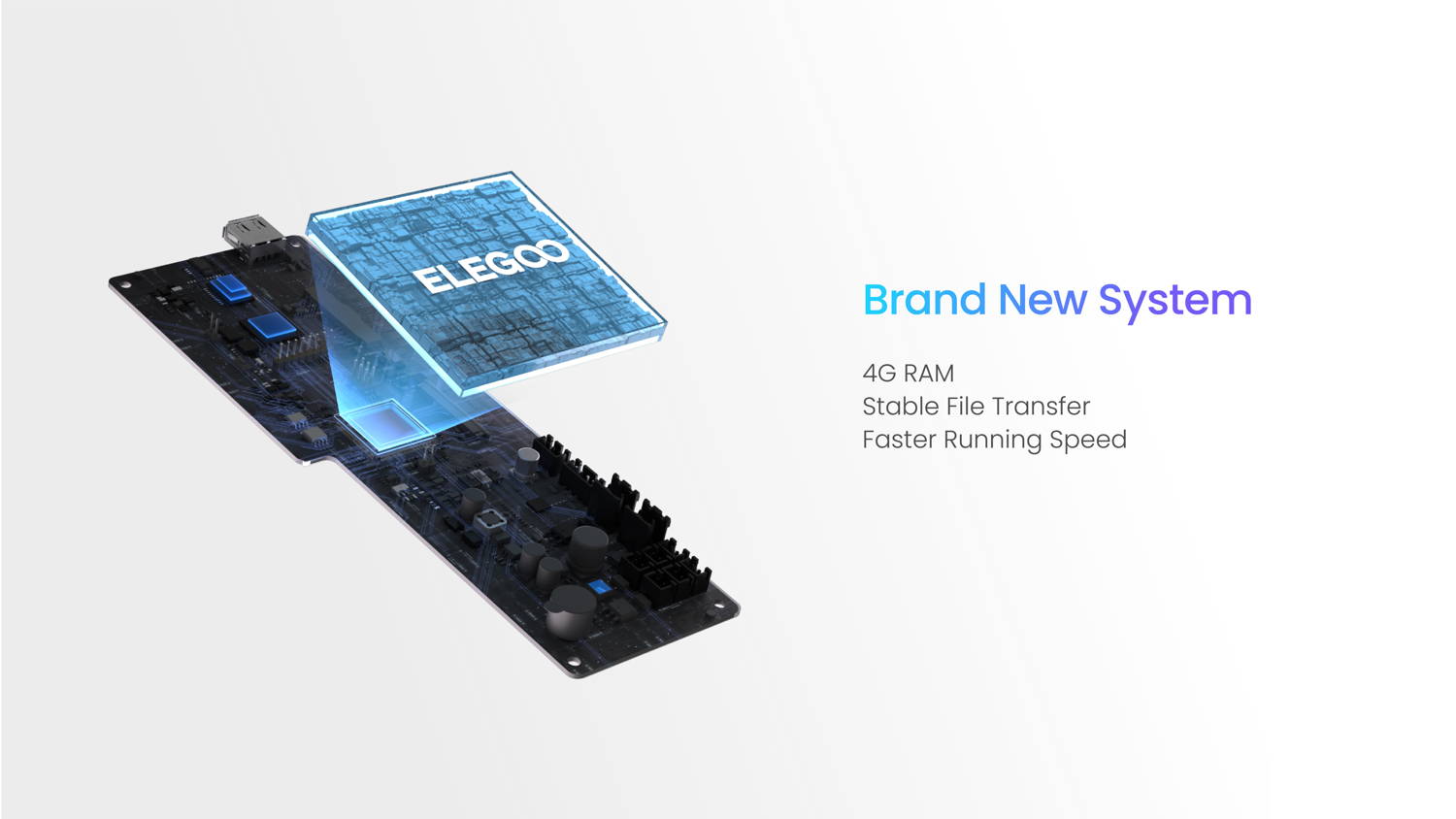 Supporting Wi-Fi transfer of files, with transfer speeds of 6-10Mbps, 
the printer is compatible with both 2.4G and 5G networks, providing flexibility in transferring files from your computer or mobile device.
And it comes with a detachable antenna, located on the right side of the printer.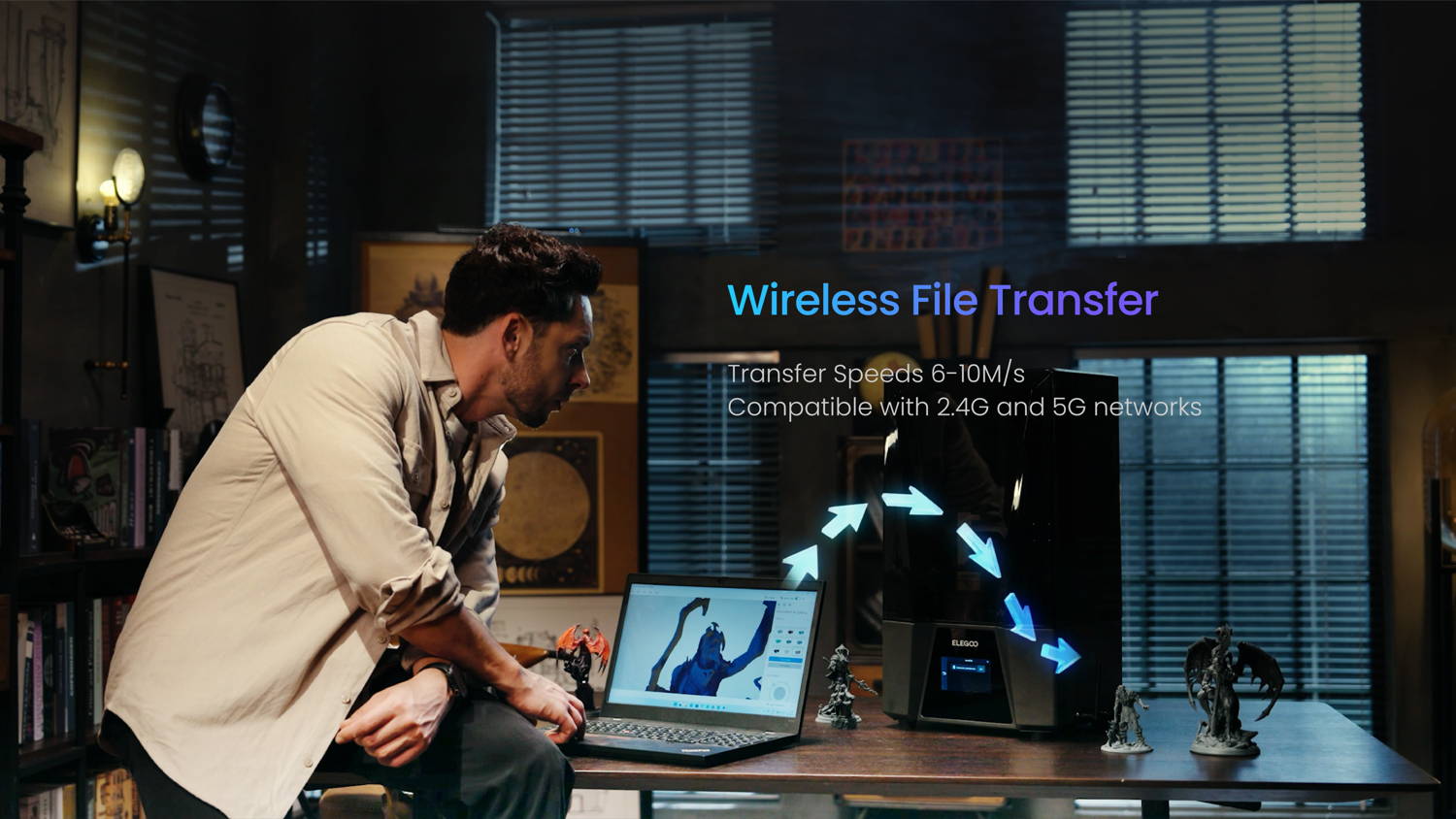 Experience higher printing success rates with the brand new ACF release film, specially designed for the Saturn 3 Ultra. 
With less release force, one side is frosted (face down), and the other side is smooth, 
combined with the upcoming ELEGOO Rapid standard resin allows for printing speeds up to 3 times faster, 
reaching speeds of up to 150 mm/H.
Saturn 3 Ultra adopts an all-metal machine body to enhance the printer's stability and durability, 
making it capable of withstanding the rigors of frequent use. 
The printer's sleek and modern design also adds a touch of elegance to your workspace.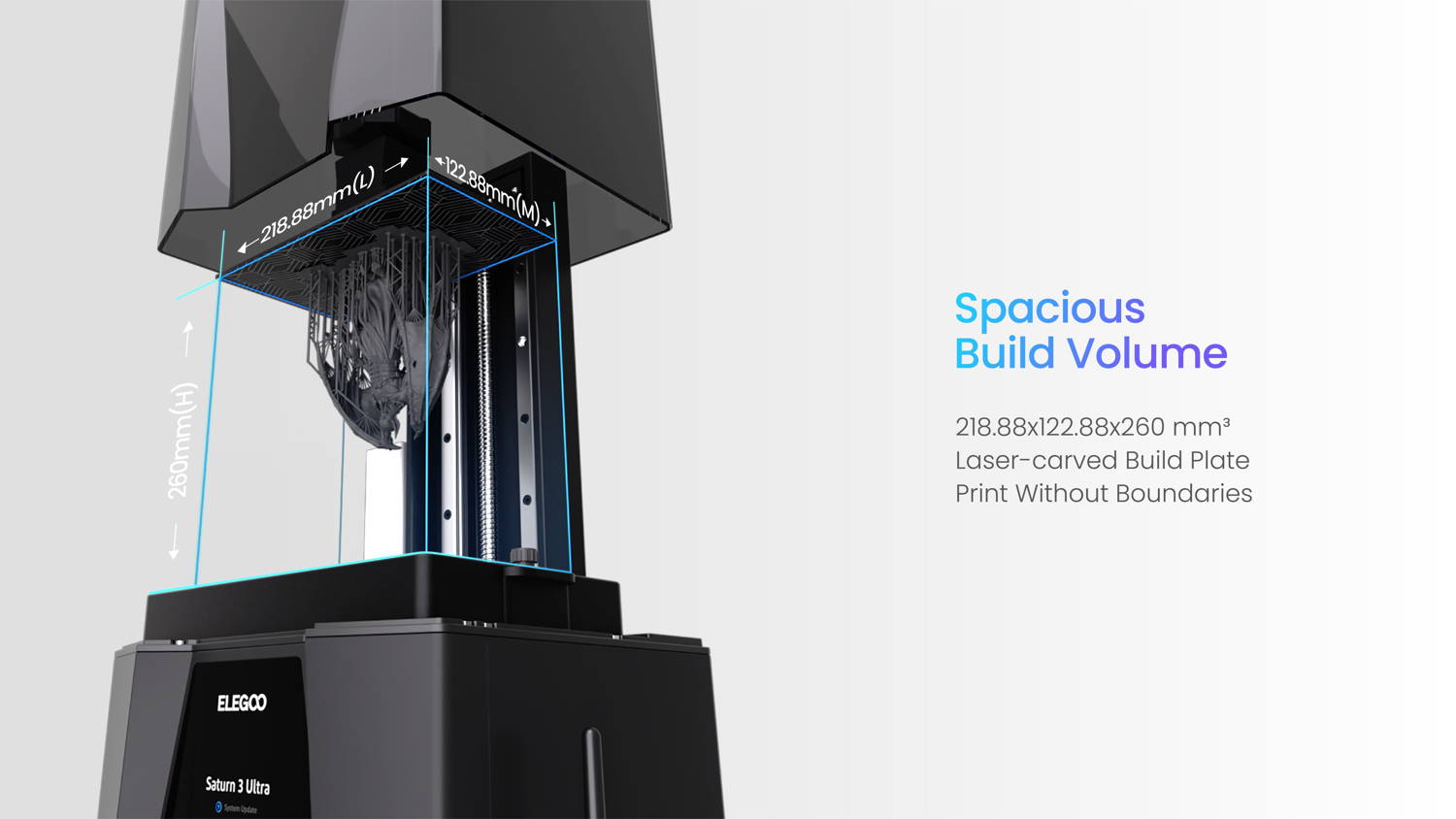 Ultra-Steady Printing Performance
Experience steady and precise printing performance with the ELEGOO Saturn 3 Ultra. 
The Z-axis features an integrated ball screw and dual linear guide rail, 
ensuring ultra-steady and accurate movement, even at high printing speeds of up to 150 mm/H, and reducing layer texture on your final prints.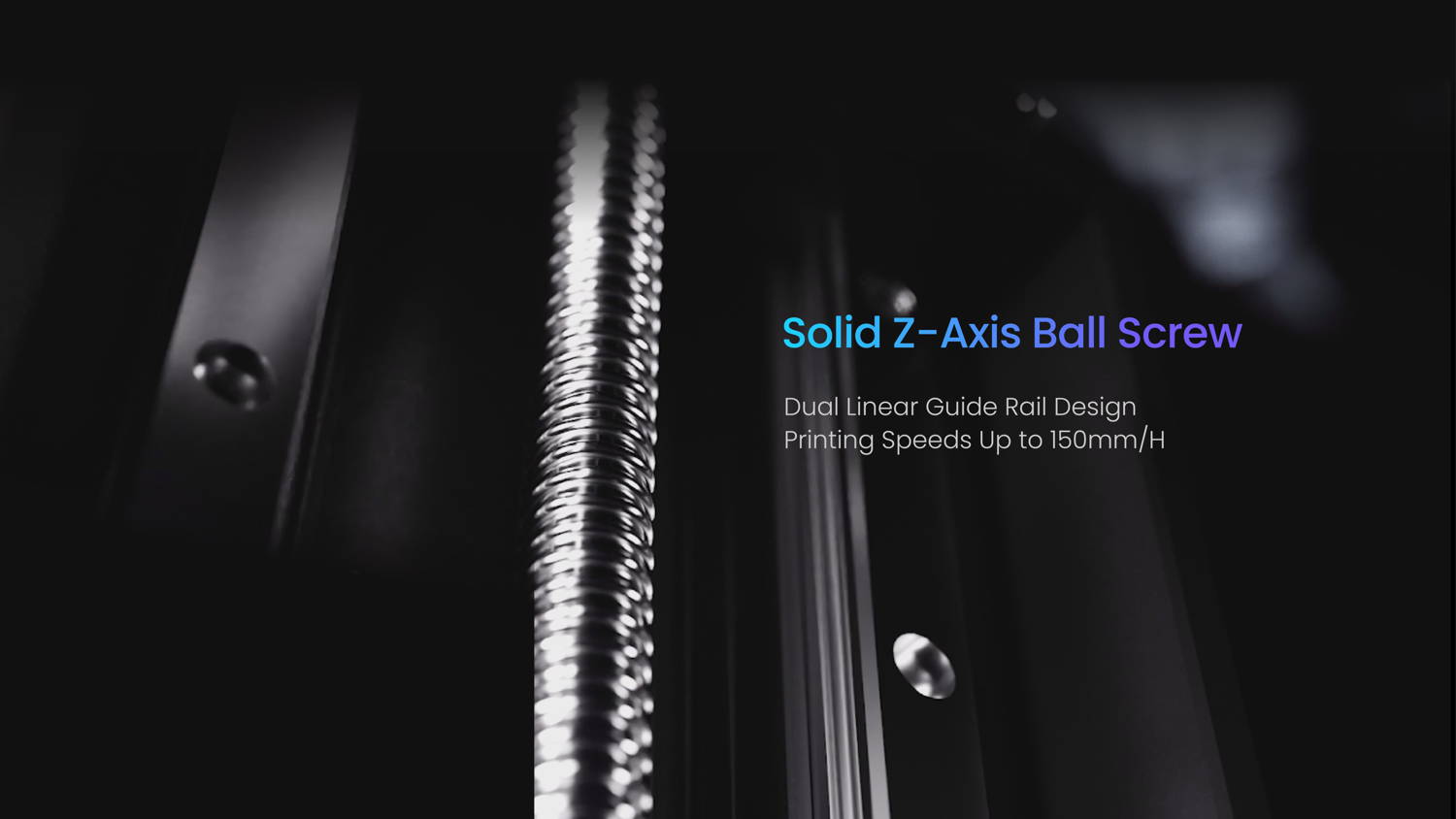 The 4-point leveling system is designed with four clockwise-tightening screws for easy alignment and optimal performance. 

After leveling once, there is no need for the hassle of repeated leveling. 
The laser-engraved build plate provides excellent adhesion for tightly holding models during printing and easily removes the model after printing is done.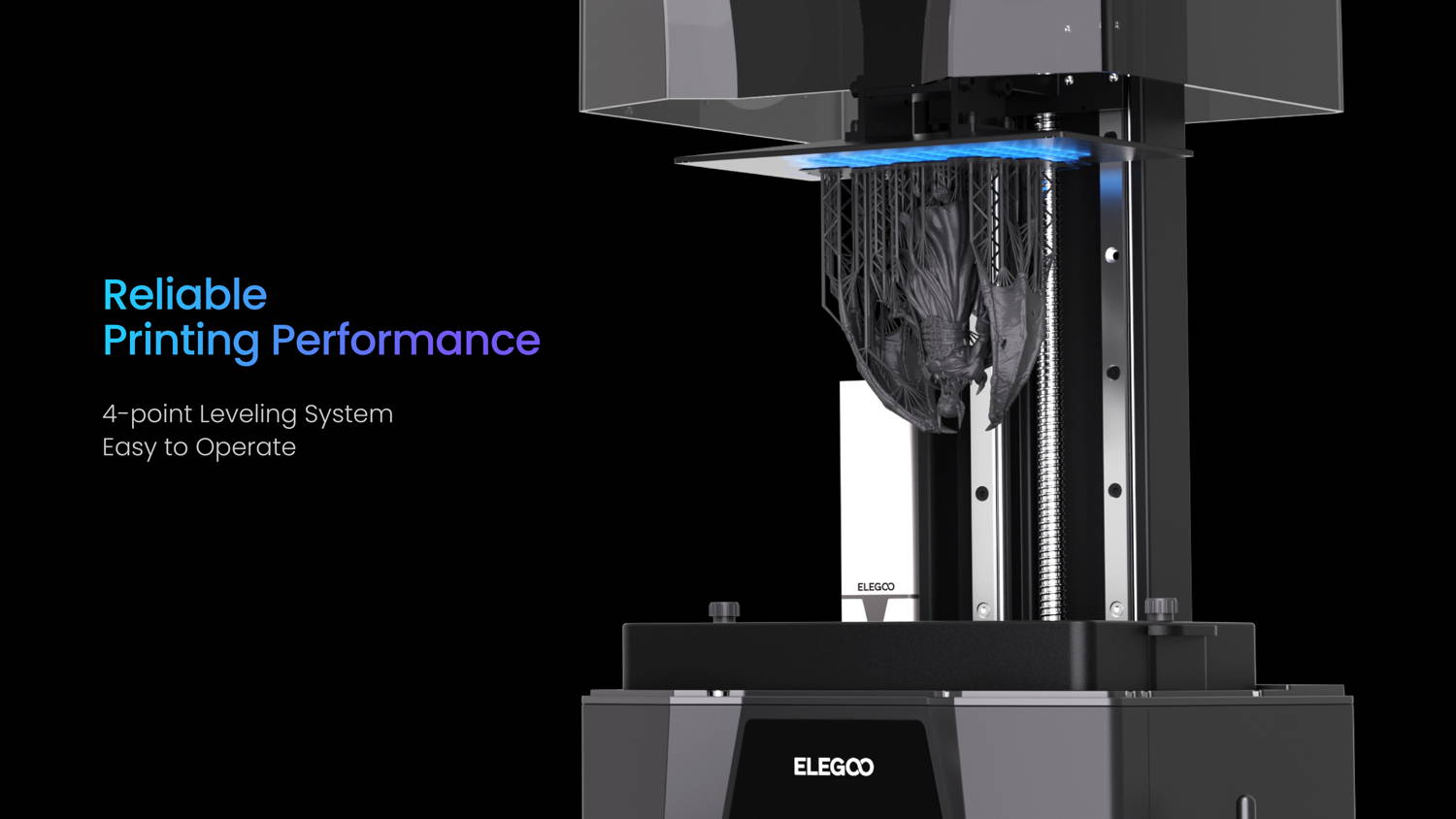 The 4-inch HD IPS touch screen with an 800*480px resolution and a new UI interface design is easy to operate and also supports multilingualism for greater convenience.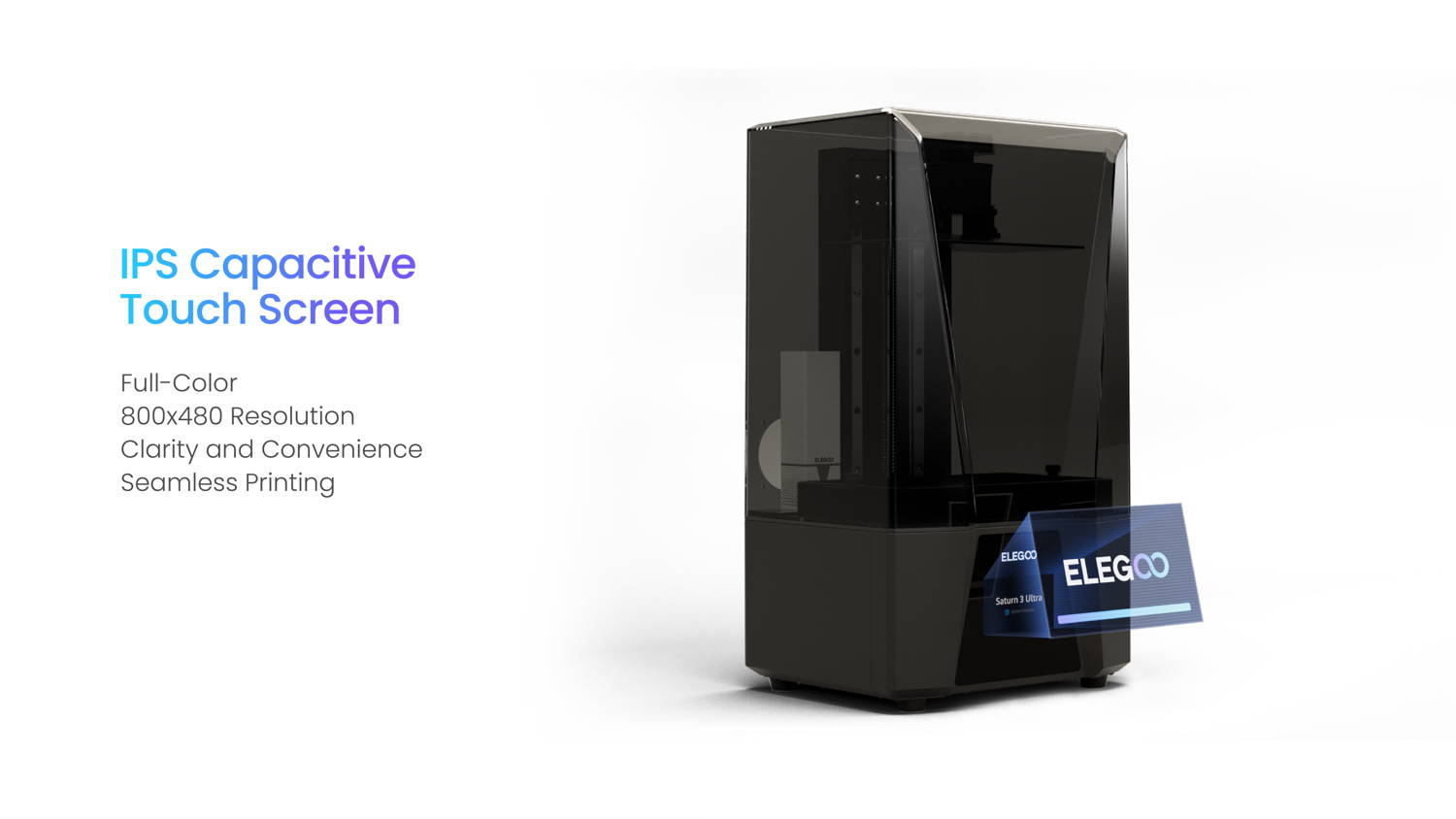 Saturn 3 Ultra offers three modes of printing with Voxeldance Tango Slicer, and an open-sourced GOO slice file format, 
providing greater flexibility to choose the mode that best fits your printing needs.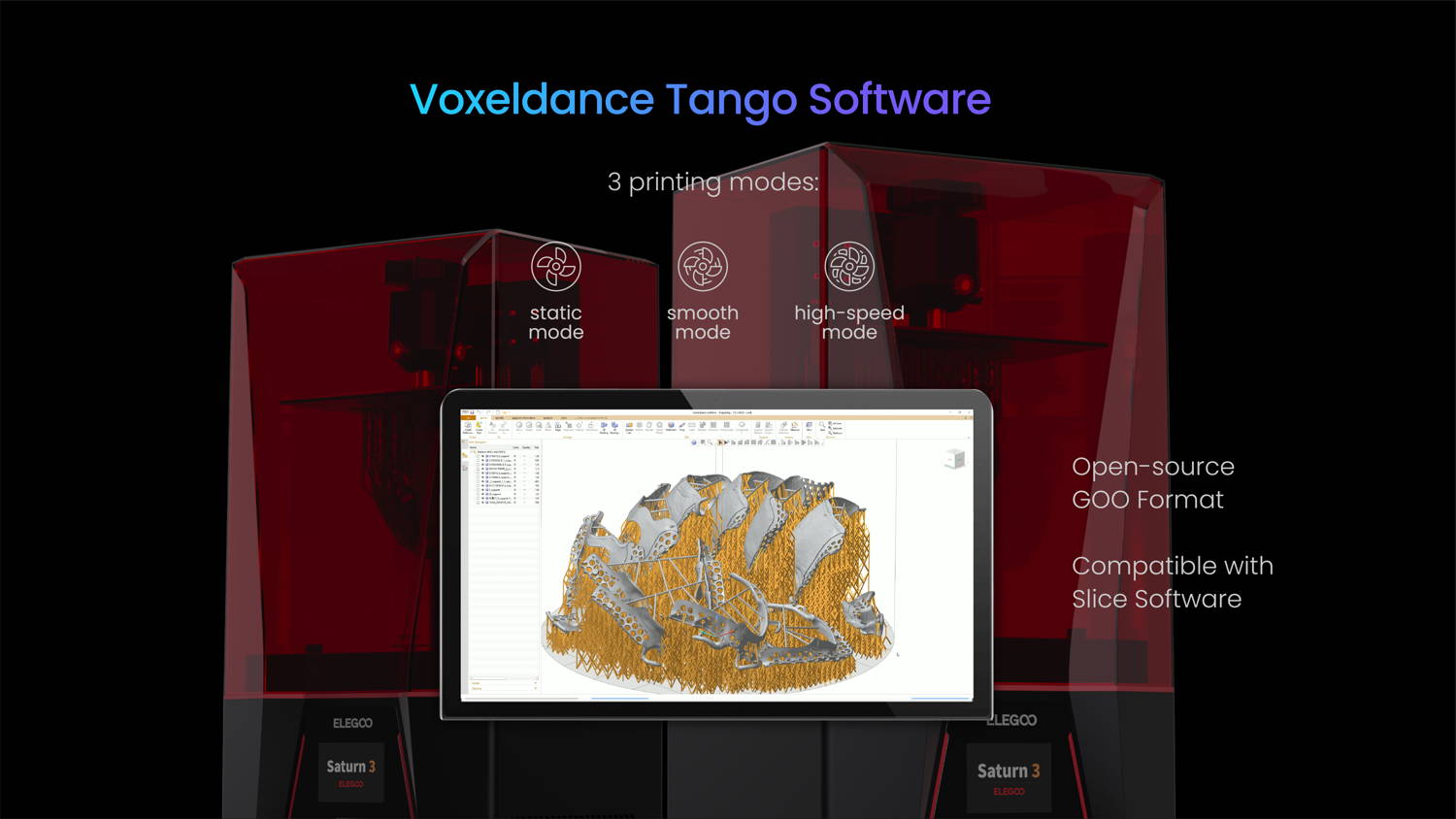 Excellent Printing Experience
The printer adopts double heat-conducting copper tubes and a larger cooling fan for effective heat dissipation, ensuring that your printer performs at its best and extends its service life.
The plug-in air purifier with an activated carbon filter removes resin odor during printing, and the printer has a USB socket reserved for dual USB air purifiers. 
Or, you can choose the ELEGOO MarsMate Air Purifier with 95% VOC purification efficiency for a healthier printing environment.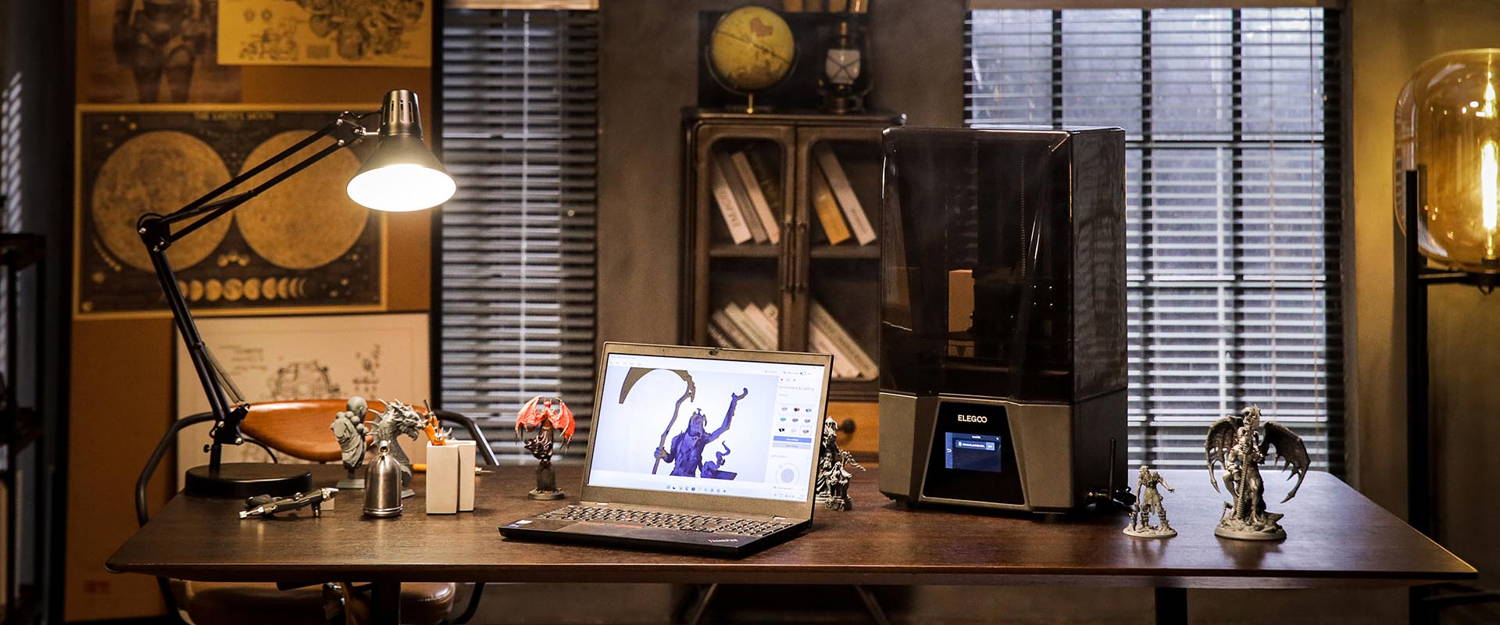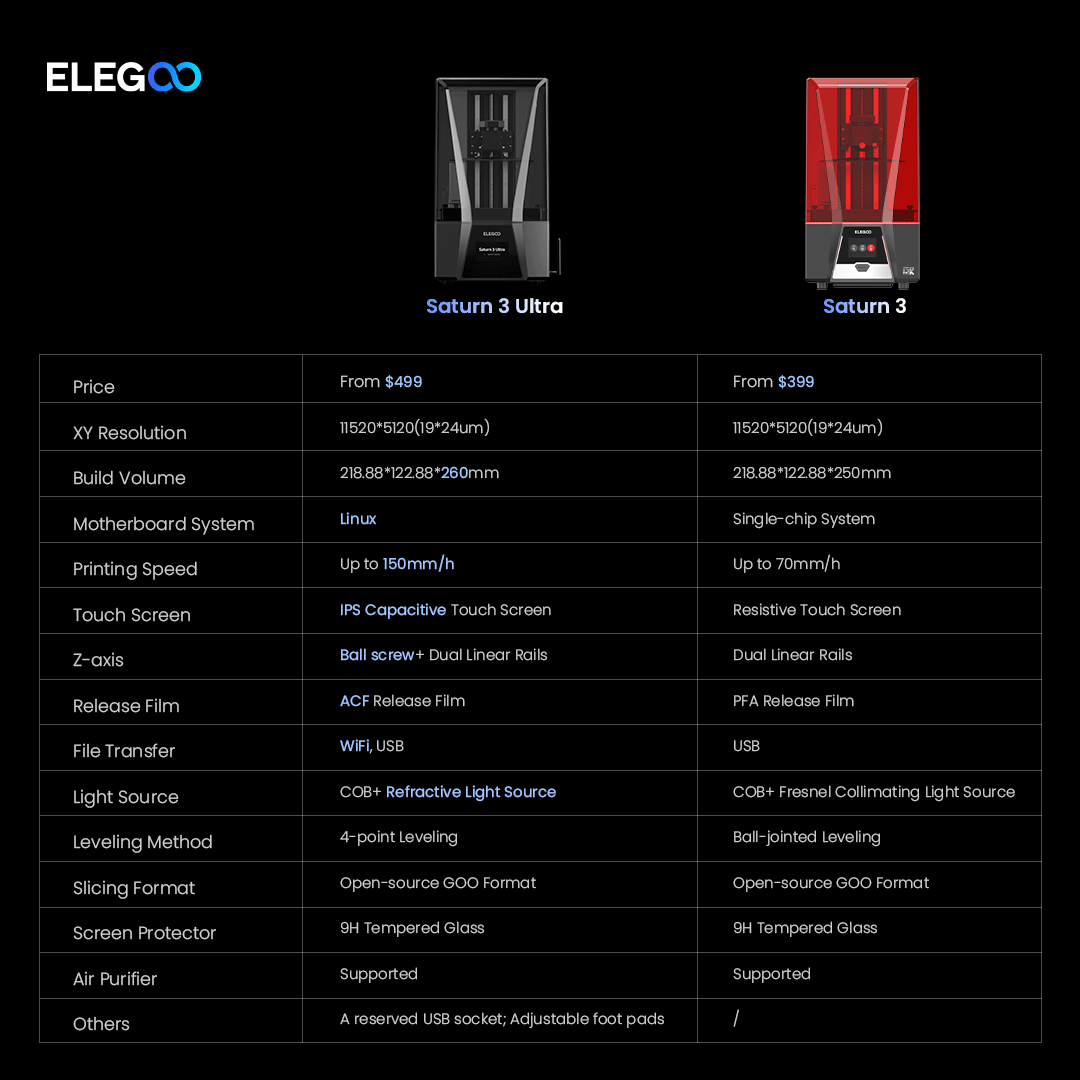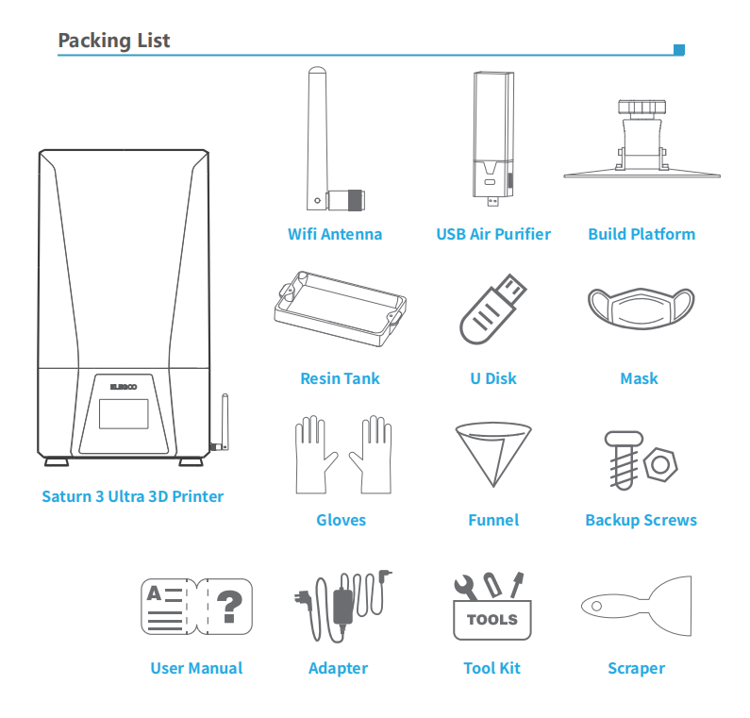 This item is currently restocking. It may take up to 3 weeks to ship.
---
Share this Product
---
More from this Category