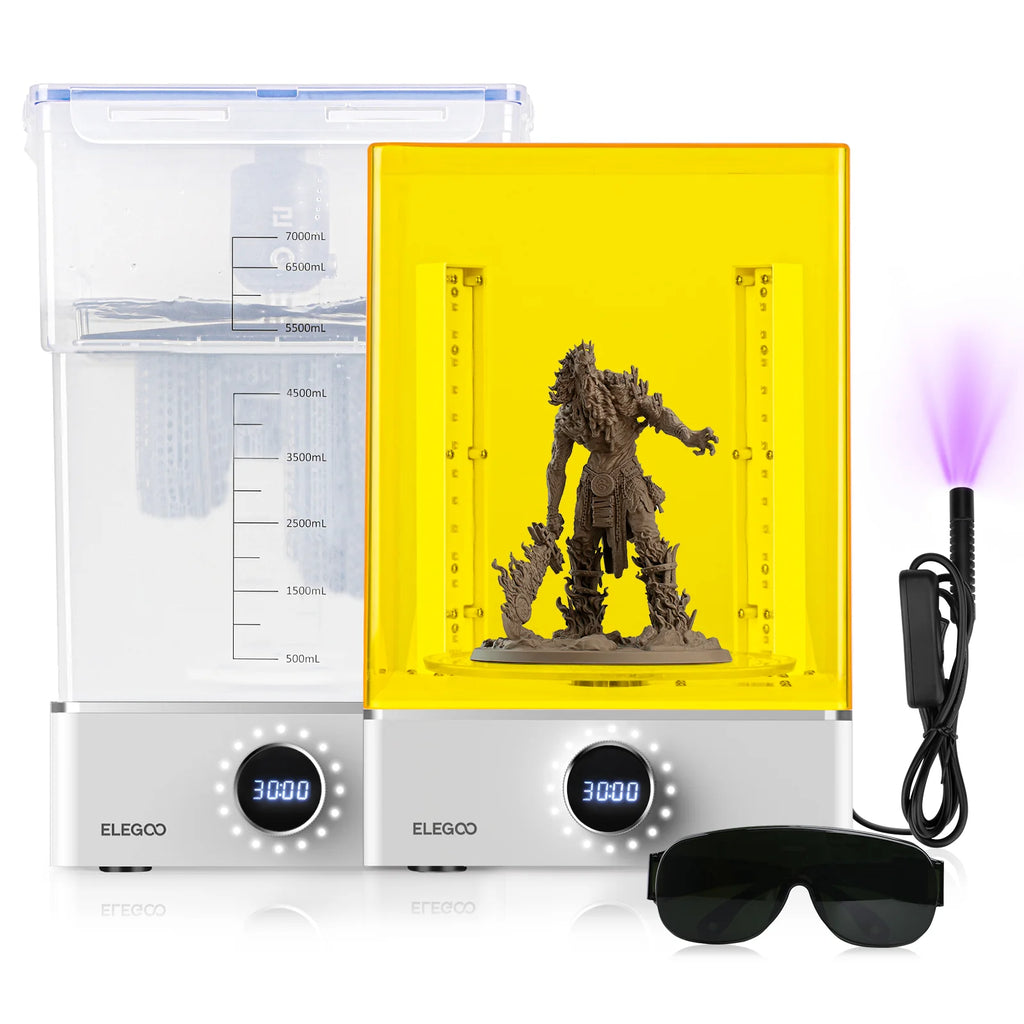 ---
[360° all-round exposure]

 

The post-curing station adopts 2 L-shape light bars (each built-in 14 UV LED lights) and adds 4 UV LED beads beneath the turntable. Work with 360°auto-rotating turntable and a handheld UV lamp that cures the nooks and crannies and interior of 3D prints, so that the entire model is cured thoroughly without dead ends.
[Dual function of washing and curing]

 

ELEGOO Mercury XS contains 1 washing station and 1 post-curing station, with the dual function of cleaning and curing to remove uncured resin of 3D printed models and optimized your print quality, making your post-processing simple and efficient.
[Large washing volume]

 

With an 7000ml large capacity sealed water tank, you can directly wash large models printed by ELEGOO Saturn and Mars 3, or clean parts in batches, which offers substantial time savings and improves your productivity.
[Easy and intuitive operation]

 

With a single knob, just press and hold to turn on the machine, then rotate the knob to set an appropriate time for washing or curing, and your models will be ready in a short time. The UV cover can block 99.9% of ultraviolet rays and protect your eyesight during post-curing.
[Wide Compatibility]

 

Directly compatible with ELEGOO Saturn or Mars 3 3D printers and the most similar build volume LCD/DLP/SLA 3D resin printers on the market, making your 3D resin print post-processing simple, professional, and efficient.
Friendly Tips:
Mercury XS Bundle is perfect match with Mars 3 Pro 3D Printer and  Saturn 2 3D Printer, but it need to remove the build plate's handle before washing the Saturn 2's prints.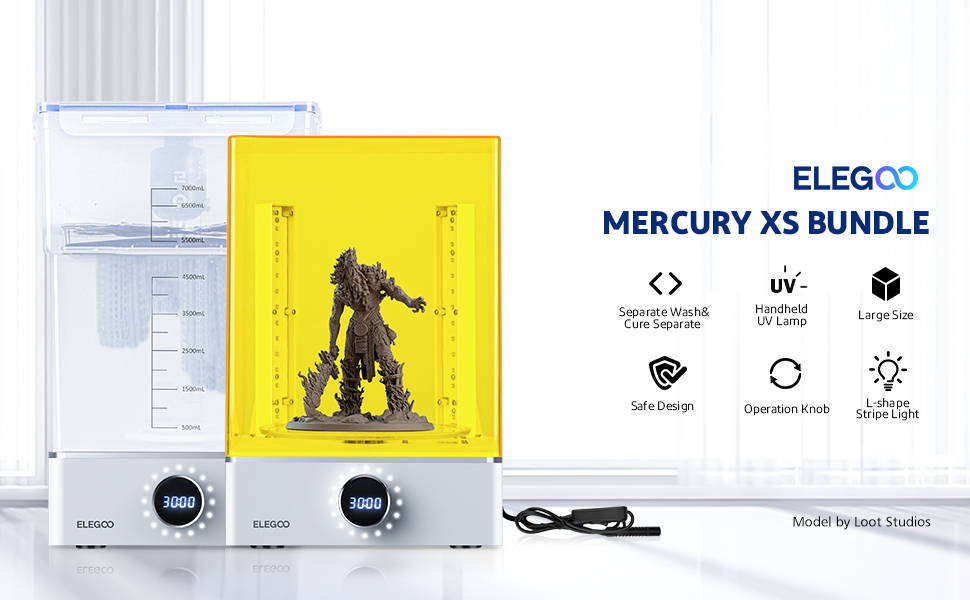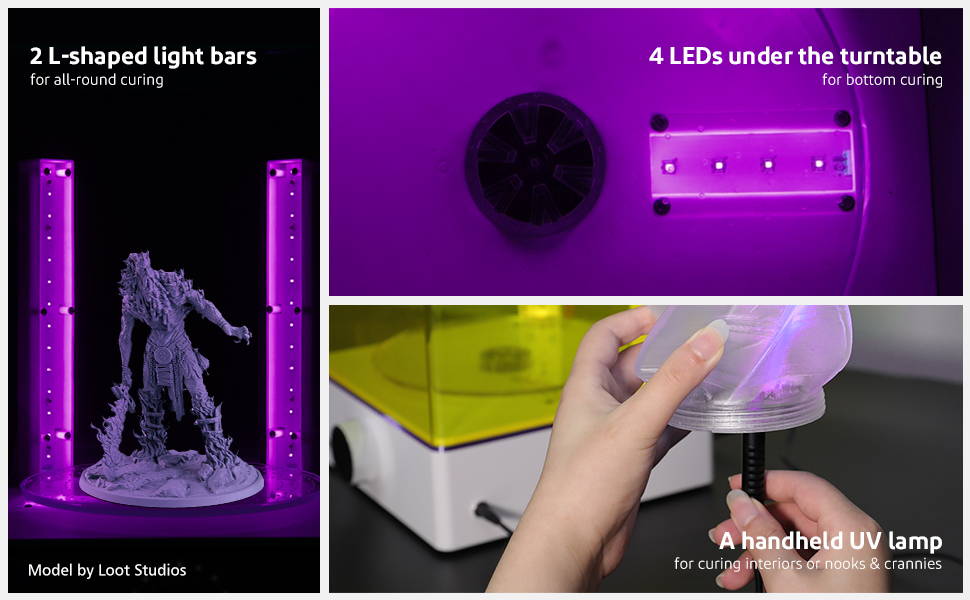 2 adjustable L-shaped light bars and increased 4 LED lights under the 360° rotating turntable paired with Fresnel lens to emit UV light with a uniform wavelength of 405nm, ensuring that the model is evenly exposed from all angles.
Additionally, there is a handheld UV lamp to cure the interior or nooks and crannies of 3D printed parts for smoother surface and incredible print quality, also ideal for curing assembled models.
The 7.5 liter water container is designed with rubber sealing tape and powerful turbine blade to effectively removal excess resin on the surface of models and prevent liquid splashing and volatilization. 2 cleaning methods: basket washing, remove the model and put it into the basket for cleaning; suspension washing, directly hang the printing platform on the cleaning rack for cleaning.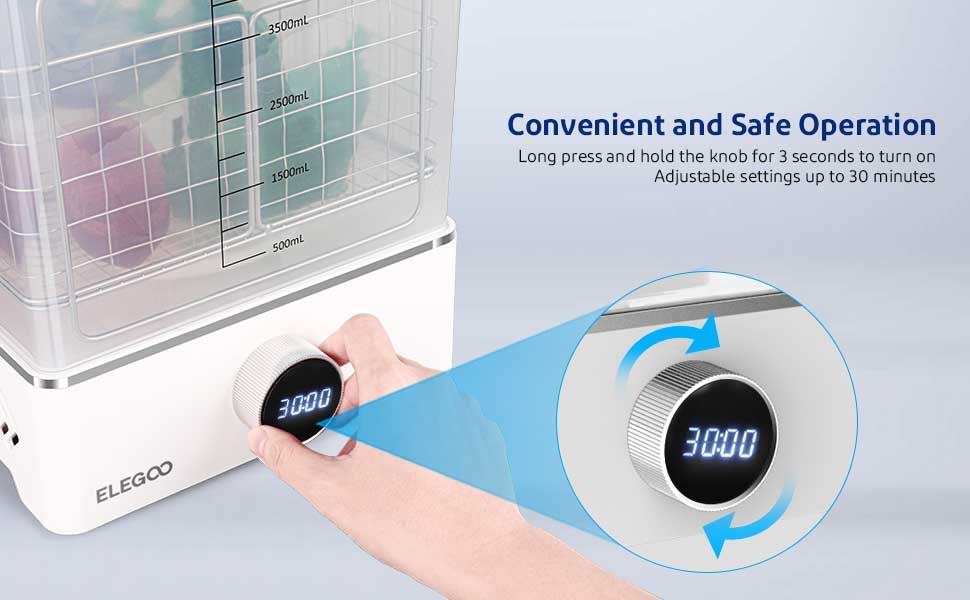 Convenient Operation Settings
Simply press and hold the knob for 3 seconds to turn on, with a neatly interface for easily operating the washing and curing functions. The settings time can be adjusted for maximum 30 minutes according to your needs.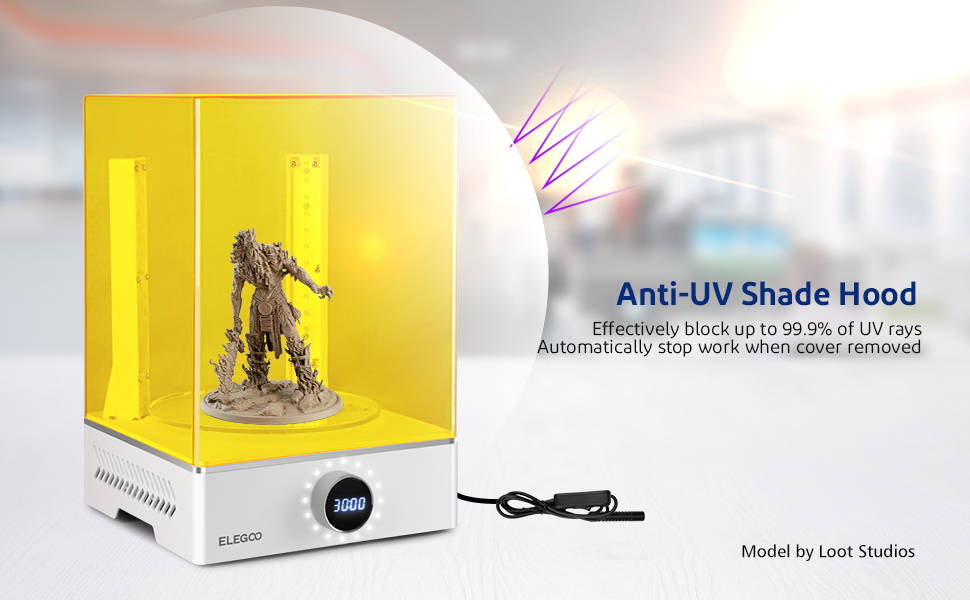 The transparent cover of the curing machine can block up to 99.9% of ultraviolet rays to improve resin solidification rate and protect your eyesight during curing process. A safety option automatically switches off the UV lights when you remove the cover.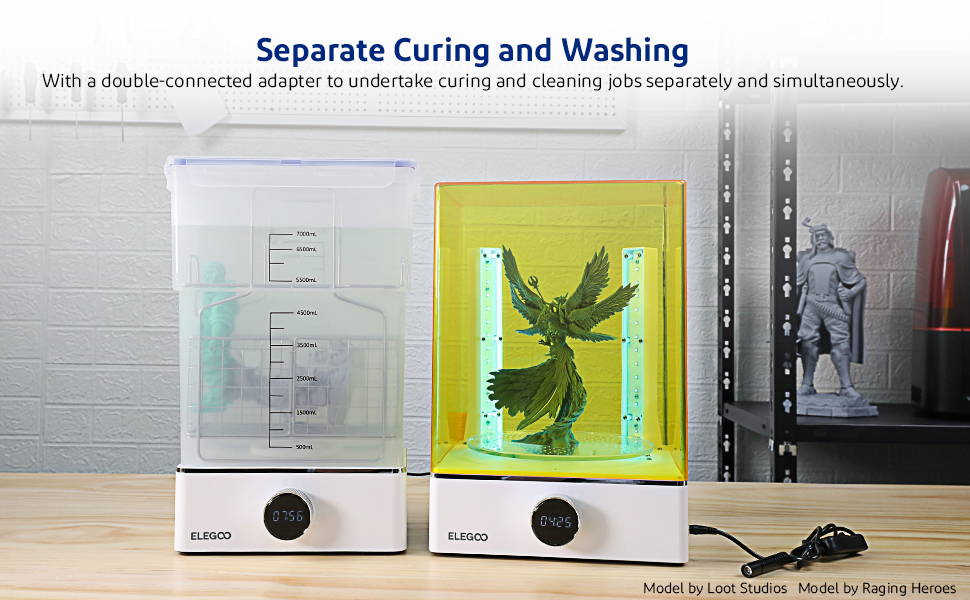 Separate Curing And Washing
A double-connected adapter saves you time by allowing you to perform curing and cleaning jobs at the same time, one for cleaning and the other for curing. Once washing and curing completes, smooth and clean parts are ready where you are.
After the model is printed, please clean and blow-dry the model before putting it into the machine.
If the model become yellow after curing, please reduce the curing time. Over curing will lead to a yellowish model.
Recommended ambient temperature is 0-40 degrees, and the ambient humidity temperature is 20%-50%.
Please do not use it for more than 40 minutes at a time to avoid overheating
Cure Time: If model diameter less than 30 mm, the curing time is recommended to be 2 minutes. If the surface structure of the model is complex, it is recommended to increase the curing time properly.
Special Notes: The washing function is not quite suitable for 3D models printed with water washable resin, which is better to be washed with running water.
ELEGOO Mercury XS WASH Machine

Control Method: Knob + Button
Rated Power:  12W
Input Voltage: 110V/240V 50/60Hz
Time Setting: 0-30mins
Machine Size: 255mm*155mm*385.5mm
Maximum Wash Volume:
 (with platform)180mm*121mm*153mm 
 (without platform)201mm*124mm*255mm
Machine Net Weight: 2.27kg
ELEGOO Mercury XS CURE Machine

Control Method: Knob + Button
Rated Power: 36W
Input Voltage: 110V/240V 50/60Hz
Time Setting: 0-30mins
Machine Size: 246mm*230mm*363.5mm
Maximum Curing Size: 200mm*260mm
Machine Net Weight: 2.4kg
---
Share this Product
---
More from this Category