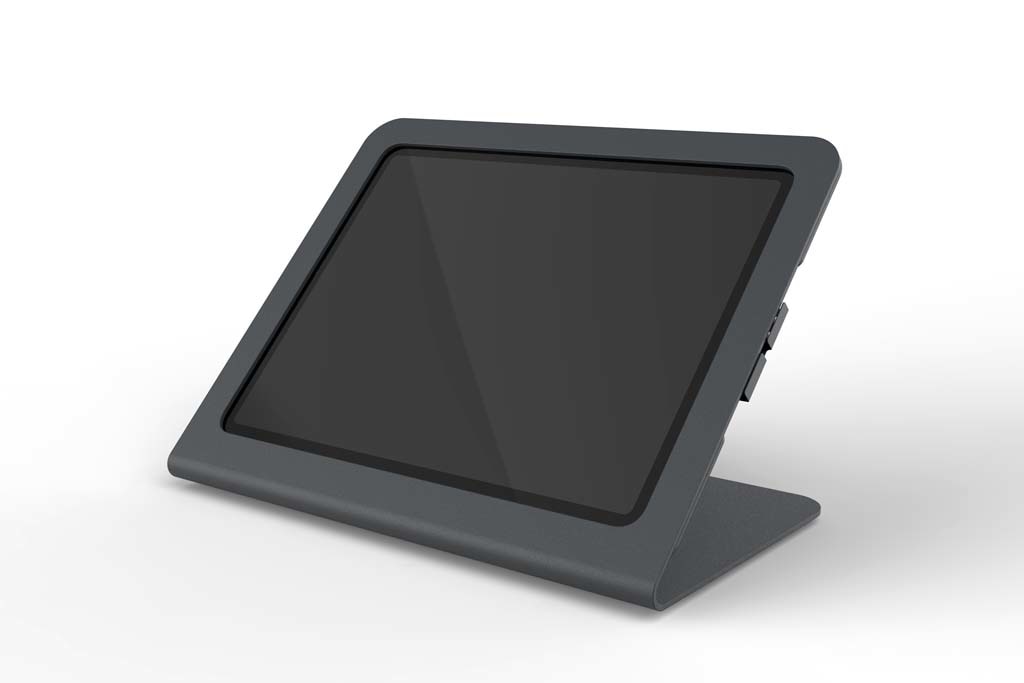 Stand Prime for 12.9-inch iPad Pro (3rd, 4th, 5th & 6th Gen)
---
Key Features
Sturdy and Secure
Cable Accommodation
Refined Fit & Finish
Secure Mounting & Cable Management with PivotTack
A Place for Pencil
Compatible Devices

iPad Pro 12.9-inch (3rd, 4th, 5th & 6th Gen)
Compatible Software / Apps

Bindo, Breadcrumb, Envoy, Lightspeed, LobbyConnect, PayPal Here, Quickbooks, Revel, Shopify, Shopkeep, Square, Swiped On, TouchBistro, VEND, Welkio, iLobby

Dimensions
Width: 12.5 inches
Depth: 6.9 inches
Height: 7.6 inches
Weight

1.6 KG

In The Box
WindFall Stand for iPad Pro 12.9-inch (3rd & 4th Gen)
Tamper-resistant assembly screws
Tamper-resistant assembly tool
Friction feet
Sliding feet
Secure the new third-generation iPad Pro 12.9-inch for use in your business. WindFall Stand is refreshed to compliment the tablet's new all-glass, all-powerful display. With a clean aesthetic and all the clever security details, there are plenty of ways to use WindFall Stand in your space
Glass & Steel, Refreshed
The screen of the new, third-generation iPad Pro 12.9-inch reaches for the edges to create a beautiful all-glass display that's more responsive than ever. Our signature steel WindFall Stand has evolved too, with an updated bezel design, hidden assembly hardware, new security options and more. As iPad keeps improving, so does WindFall.

Cord Securer Included
iPad Pro 12.9-inch is a performance machine. WindFall Stand now includes a cord securer to ensure your USB C cable keeps the performance going and the power flowing. This tailored, powder-coated bracket fastens with rear-facing hardware to ensure your power cable won't come unplugged.
Upgradable Security Hardware Included
WindFall Stand ships with new hardware that's easy to assemble out of the box and hides out of sight. WindFall Stand also includes an additional set of tamper-resistant assembly hardware, optionally installed to help protect your hardware in high traffic environments.
A Place for Pencil
The revised Apple Pencil (not included) is a robust input accessory that snaps to the edge of the third generation iPad Pro to charge. WindFall Stand's open-back design allows for airflow and leaves room for Pencil to snap to the tablet when not in use.
Made in the USA
This item is currently restocking. It may take up to 3 weeks to ship.
---
Share this Product
---
More from this Category