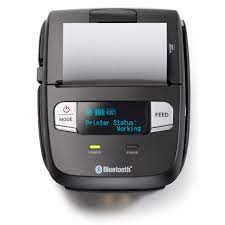 Star Micronics SM-L200 Portable Bluetooth Receipt Printer and Label Printer
---
The SM-L200 2″ / 58mm Bluetooth mobile receipt and label printer is designed specifically for the growing mobile market in retail, hospitality, logistics and transportation. 
This super-compact mobile solution provides fast, simple connection to Apple iOS, Android, Linux and Windows Mobile device, is simple to operate and can connect using Bluetooth 4.0  to multiple devices without the need for traditional pairing.
Compact and lightweight, the SM-L200 is designed to print high quality receipts and labels on-the-go.  With a 13 hour battery life, the SM-L200 features simple micro USB charging as well as an optional desktop charging cradle and vehicle mount. The SM-L200 features reflective (black mark) and paper end sensors to accommodate fixed length receipts and standard labels
The SM-L200 mobile bluetooth printer is also compatible with Star Cloud Services and the AllReceipts Digital Receipting App.
This item is currently restocking. It may take up to 3 weeks to ship.
---
Share this Product
---
More from this Category