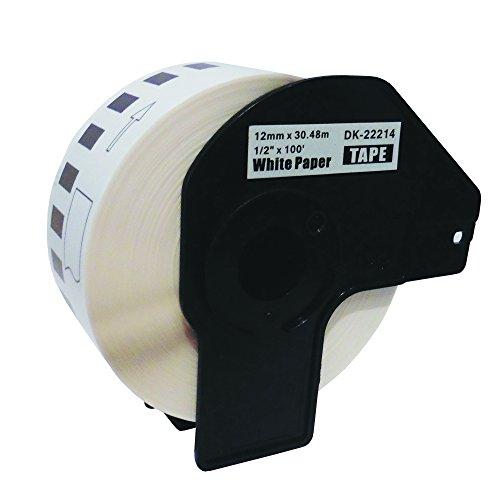 Compatible Brother DK-22214 12mm x 30.48m Continuous Length Paper Roll (Black On White)
---
This Compatible Brother DK-22214 Continuous Length Paper Tape (Black On White) is a replacement tape for Brother Quick Label (QL) Series Printer.

The Compatible Brother DK22214 Continuous Length Paper Tape are water, grease and rub resistant that deliver crisp text and high quality graphics.
Tape Colour: Black On White
Tape Dimensions: 12mm x 30.48m

This compatible Brother DK-22214 Continuous Length Paper Tape can be used in various Brother QL Quick Label printers including:

Brother QL series: QL-1050, QL-1060N, QL-1100, QL-1110NWB, QL-500, QL-550, QL-570, QL-580N, QL-650TD, QL-700, QL-710W, QL-720NW, QL-800, QL-810W, QL-820NWB

Our products are the compatible tapes & labels for above printers and not the original OEM tapes & labels. We are not related to nor endorsed by the named printer manufacturer.
---
Share this Product
---
More from this Category